In 2023, LS reviewers continue to make outstanding contributions to the peer review process. They demonstrated professional effort and enthusiasm in their reviews and provided comments that genuinely help the authors to enhance their work.
Hereby, we would like to highlight some of our outstanding reviewers, with a brief interview of their thoughts and insights as a reviewer. Allow us to express our heartfelt gratitude for their tremendous effort and valuable contributions to the scientific process.
June, 2023
Mario Cuesta Argos, Hospital Germans Trias I Pujol, Spain
June, 2023
Mario Cuesta Argos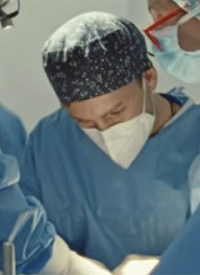 Dr. Mario Cuesta Argos is a pediatric surgeon currently working at Hospital Germans Trias I Pujol in Badalona (Spain). He completed his training at the Sant Joan de Deu Hospital in Barcelona, with subsequent specialization in the area of surgical oncology at the same center. Currently, he focuses his professional career on pediatric urology, developing this area in his new center: development of flexible endourology with adult instrumentation adapted to the pediatric patient, disorders of sexual differentiation, as a national reference center and functional urinary pathology, creating the biofeedback management unit.
In Dr. Argos's view, peer review allows exchange of knowledge among professionals with different ways of acting in their daily professional life. In this way, scientific publications are more adapted to real clinical practice.
Dr. Argos reckons that the published results always reflect the reality of the author. Thus, their reproducibility is not always exact in all centers due to their population biases. Furthermore, it is important to keep in mind that the unfavorable results of certain treatments are equally necessary to publish, and not only those with favorable results.
Though the burden of being a doctor is heavy, Dr. Argos allocates his time of work and life in balance. He says, "Many times, the research work of professionals depends on our own free time, but the care load does not allow it in any other way. Public health programs should dedicate resources to improving the quality of professionals, assuming that part of their work routine should be dedicated to research, and not depend only on the doctor's own will."
Dr. Argos believes that the pharmaceutical industry is always an important determining factor in the medical world. There are numerous population biases inherent to the pathology, so they should not add more that depend on the treatment. Studies with conflict of interest will always be focused on promoting their sponsor, and therefore, will only show favorable results, while unfavorable ones will not be published. Scientific publication must be honest, clear and global.
(By Lareina Lim, Brad Li)